iRondo is incredibly easy to use and control
Many scanning and batch programs are hard to use. They also make it difficult for the user to know what the program is doing right now.
iRondo has a simple sequential flow, starting with the Input screen, and ending with the Status screen below. The details of the output and processing screens depend on the Profile selected. All the screens have a similar, simple, easy to understand structure. There are no hidden panels, no extra options, no confusing settings.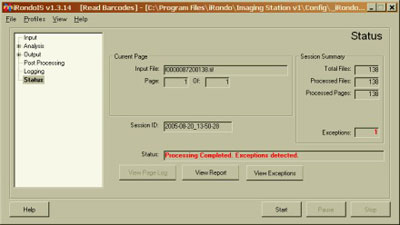 iRondo Status screen (click to enlarge) shows:
| | |
| --- | --- |
| | The name of the file in process now , and the page in the file |
| | The unique session ID |
| | The detailed status, including exceptions |
| | Session summary - how much of the job has the program completed thus far |
| | Buttons for Help, Start, Pause and Stop |